Have you wondered how to optimize sponsored posts for SEO while also meeting the brand's goal for their campaign? Below you will find actionable steps you can take to help your sponsored post perform well in search engine results and searches on Pinterest.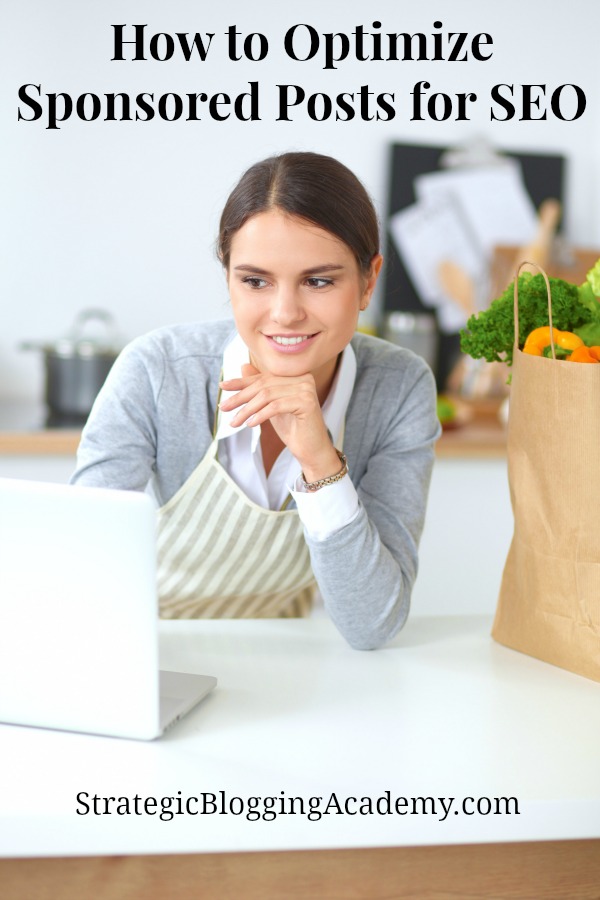 When I write a sponsored post, I strive to create a piece of evergreen content – something that will live on long after that sponsored campaign is over. It is not only good for me because of the additional ad income I make on banner ads, but the brand benefits from the additional exposure.
How to Optimize Sponsored Posts for SEO
One of the keys to having a successful long-term post is having one that does well in search results on search engines and search results on Pinterest. Below are some Search Engine Optimization (SEO) tips for sponsored posts and some ideas for helping your posts to be found in Pinterest searches.
Choosing Keywords for Your Sponsored Post
Select your keyword phrase carefully. Put as much thought into choosing your keyword phrase for a sponsored post as you would an anchor post on your site. Think about what words people would use in a search to find that content. If you're not sure, ask yourself: What question does your post answer? What problem does it solve? Once you know what your post is the solution to, you will be in a better position to figure out what words people will use to search for that solution and use them to come up with your keyword phrase.
Example: A sponsored post on Miracle-Gro LiquaFeed Universal Feeder:
What question does the post answer? How to get strawberry plants to produce more berries.
What problem does the post solve? Strawberry plants not flowering.
Either one of these answers serve as a good basis for a keyword phrase
Keyword Phrase Chosen: How to Get Strawberries to Produce More Fruit
While this may seem very specific, the more detailed the phrase the more likely someone who has that problem will click on it when they see it in search results. Could I have optimized the post for "how to fertilize strawberries"? Yes, but in this case, the fertilizer is one of the solutions, not the only solution to the problem. So somebody who landed on the post looking for how to fertilize strawberries might be put off by all the additional information. When somebody lands on your page from a search result and stays for a short time before going back to the search results to look some more, they signal the search engine that your post wasn't helpful which can hurt your standings in the Search Engine Result Pages (SERPs).
On a regular post, I often factor in how much certain keyword phrases can earn in ad income from Cost-Per-Click (CPC) Ads, but I turn off all ads inside sponsored posts, so I do not worry about how much brands are bidding on keywords when I choose my keyword phrase for a sponsored post.
SEO Title: Strawberry Growing Tips: How to Get Strawberries to Produce More Fruit
Choosing a Title for Your sponsored Post
You can actually have multiple titles for your post: the title that is at the top of your post on your blog, the SEO title (this is the one that shows up in search engine results), and the social media title (if you use a plugin like Yoast or Social Warfare).
Create either an informative or engaging post title that includes your keyword phrase. While it is tempting to use the brand name or hashtag in the post title, I discourage from doing so. Hashtags rock Twitter and Instagram but are off-putting in post titles. When you include the brand name, you may unintentionally exclude people who don't recognize the brand name or feel so loyal to another product that they skip over your post even if the product in your sponsored post is a better solution to their problem then what they are currently using.
In my sponsored post for Melt Organic, How to Make Fluffy Dairy-Free Frosting, the keyword phrase is "fluffy dairy-free frosting" and the SEO title is "How to Make Fluffy Dairy-Free Frosting – Recipe and Tips". The main question this post answers is: How do I make a fluffy dairy-free frosting? However, the product solves another problem as well – Melt is also soy-free. Many people who avoid dairy also avoid soy. If somebody is searching for a dairy-free frosting recipe thinking that they are going to use coconut oil in the recipe (because many dairy-free margarines contain soy) and I mentioned a margarine brand, they might skip over my post because of a preconceived idea that margarine has soy. But my title encourages them to click-through where they will discover that the main ingredient in Melt is coconut oil and the combination of dairy-free, soy-free oils used in Melt makes it perform more like butter than coconut oil alone.
More On- Page SEO Tips for Sponsored Posts
Use Keyword Phrase early in your post:
In addition to using your keyword phrase in your post title, you will also want to use it in the first paragraph of your post, in the first sentence if possible. You can even include it in your disclosure:
"I created this fluffy dairy-free frosting recipe as part of a sponsored post for MELT® Organic."
Headings:
While there is some debate about whether putting your keyword phrase in an H2 or H3 helps with SEO, it does help with readability. Headings make it easier for your readers to skim and find exactly what they are looking for which can actually help keep them on the page longer. If your post is hard to navigate, they may click back to the SERPs without finding what they were looking for even if the information they needed was in your post.
Secondary Keywords and Supporting Keywords:
Use your keyword phrase naturally throughout your post, but be sure to not overuse it. Use synonyms and secondary keywords so your post doesn't become too repetitive. Also, use supporting keywords naturally in your post.
Meta Description:
While we can't guarantee that the search engines will use the meta description that we write, you can use your keyword phrase and supporting keywords naturally in the meta description. Your meta description can make the difference between someone clicking through to your post or passing over it and clicking on a more engaging meta description of another post in the SERPs.
Optimizing Images for SEO and Pinterest Searches:
Taking a little extra time on your images can significantly improve your chances of being found in image searches on Search Engines as well as on Pinterest. While many of us treat Pinterest as a social media channel, it is basically a search engine.
You should save the main image used in your sponsored post with the keyword phrase as the image file name instead of leaving it as IMG1045 or using a shortened name like DF-Icing-3.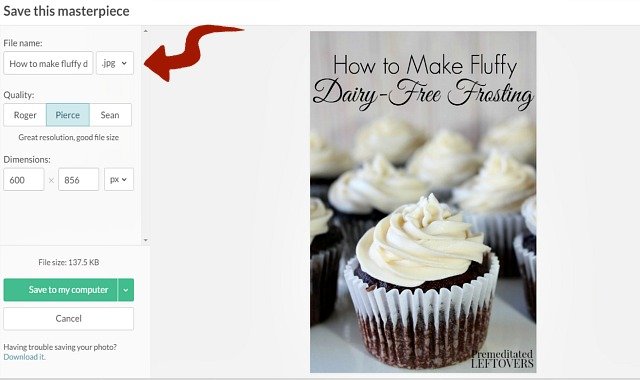 When you upload the image, write 2 – 3 natural sentences with one of the sentences including the keyword phrase as the alternate text for the image.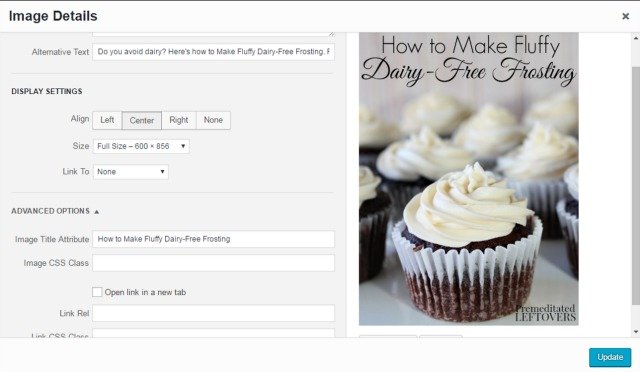 Use variations or supporting keywords in the image file names and alternate texts for the other images contained in the sponsored post.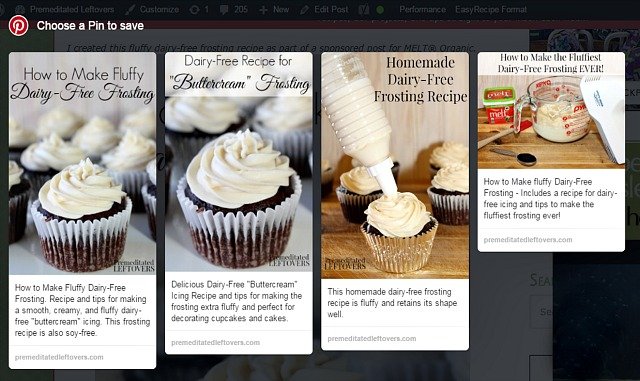 Using keywords and secondary keywords such as "icing" and "buttercream" in your alternate text on images and supporting words such as "decorating cupcakes" tells the search engines what these images are about. Having 2 – 3 sentences that include keywords, ensures that when someone pins one of your images their pin will have a good pin description that has a better chance of doing well in Pinterest searches.
Turn Off In-Post Ads:
In a sponsored post, you don't want people clicking away from the post on ads. You want people to either click on the brand's links or you want them to share the post. When they share the post it provides social proof that you have written a helpful article which helps your post not only on the social media channel that it is shared on but it also helps in the search engine results.
Internal Links:
Do you have related posts on your site? If so, take some time after your sponsored post goes live to link to your sponsored post from those related posts that are already on your site. This helps spread some link juice to your sponsored post.
Are you interested in learning more about monetizing your blog? Join our Strategic Blogging Mastermind Facebook Group.