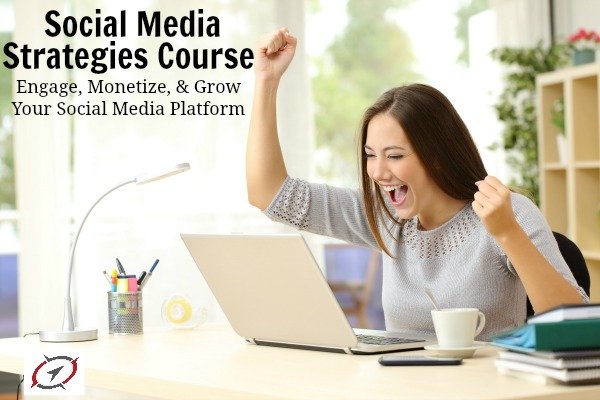 The Social Media Strategies eCourse is intended for people who are looking for effective ways to use their social media platform to increase engagement and income while growing their following.
Each module focuses on a major social media platform and contains 5 – 6 lessons sharing ways to increase engagement and click-through-rate, identifies ways to monetize that platform, shares tips for gaining followers that will like the type of content you create, and sanity-saving scheduling tips. The 4 modules contain easy-to-follow video tutorials and actionable steps that you can begin taking today on your social media accounts.
The course includes over 50 screen-shares walking you through how to implement the strategies in each lesson and weekly Q&A sessions to address any questions that you have on implementing the processes on your accounts.

.
Module 1: Pinterest
How to Optimize Your Pinterest Account and Boards
How to Create Engaging Pins
Strategies to Increase Traffic to Your Site from Pinterest
Growing Your Pinterest Following
Monetizing Your Pinterest Account
Pin Schedulers
Module 2: Twitter
Optimizing Your Twitter Account
How to Extend Your Reach with Twitter
Ways to Make Money on Twitter
How to Grow Your Twitter Following
Twitter Schedulers
Module 3: Facebook
Ways to Optimize Your Facebook Account
How to Extend Your Reach On Facebook
Ways to Monetize Your Facebook Page
How to Grow Your Facebook Following
Scheduling Facebook Posts
Module 4: Instagram
How to Optimize Your Instagram Account
How to Optimize Images for Instagram
Ways to Optimize Descriptions for Instagram
Engagement Tips for Instagram
How to Monetize Your Instagram Account
Tips for Growing Instagram
Scheduling Tips for Instagram

If you experience any problems purchasing this course, please email me at [email protected] and I will help you resolve the issue. After purchasing, be sure to check your spam folder for emails from Strategic Blogging Academy and be sure to white list us, so you don't miss out on any of our lessons or meetings.